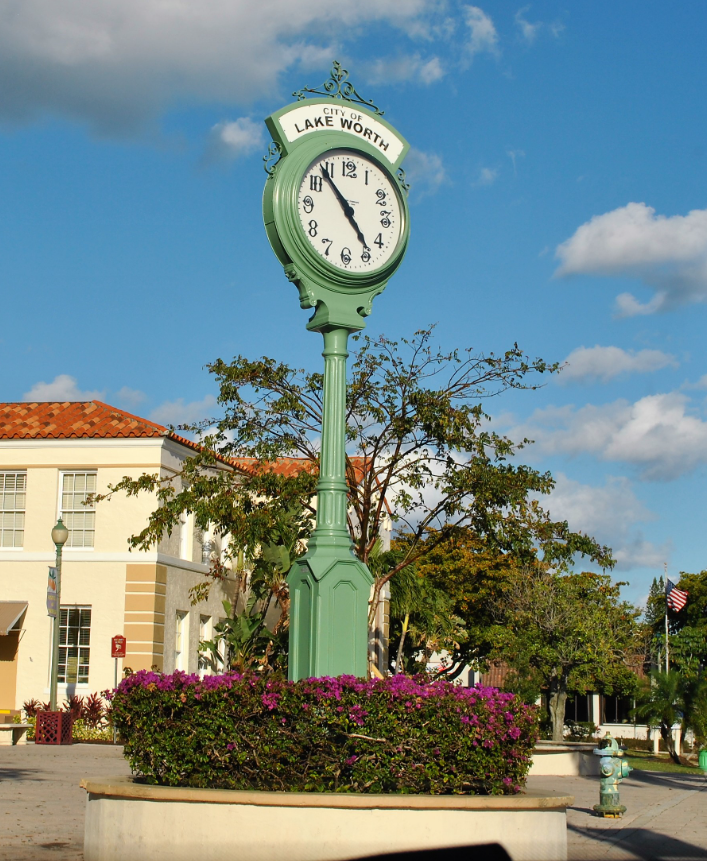 Lake Worth, Florida
Lake Worth is a city in Palm Beach County, Florida. It is located about 64 miles north of Miami and has a population of around 37,000 people. The city is known for its beaches, parks, and cultural diversity. The downtown area features a variety of shops, restaurants, and art galleries. The Lake Worth Beach & Casino complex features a casino, a fishing pier, and a beach with lifeguards. The city also has a number of parks, including John Prince Memorial Park, which offers picnic areas, playgrounds, and bike rentals. Lake Worth is also home to a number of historic sites, such as the Lake Worth Playhouse and the Lake Worth Casino Building. Additionally, Lake Worth is well known for its vibrant and diverse community with a mix of Latin, Caribbean, and Anglo-American culture.
Lake Worth is located on the Atlantic coast in Palm Beach County, Florida. It has a beach named Lake Worth Beach, which is a popular spot for swimming, sunbathing, and other beach activities. The beach is a big attraction for tourists and locals alike, and is a major part of the city's culture and identity. Quality can help you in Lake Worth if you ever need assistance with your garage door.
AFFORDABLE GARAGE DOOR REPAIR NEAR ME
Family owned, Local Small business
Honest, Friendly, Helpful, Fair Priced
Prompt, Professional, Clean
Don't Wait Until Hurricane Season to Upgrade Your Garage Door
We specialize in hurricane kits and new hurricane rated doors
Garage doors that sustain over 155+ mph winds
Are you willing to risk it? Please give us a call.
Local Services in Lake Worth, Florida
Electrician
J.W. Electric of the Palm Beaches, Inc.
1522 13th Ave N, Lake Worth, FL 33460
(561) 633-9472
Sullivan Electric & Pump Inc
1942 8th Ave N, Lake Worth, FL 33461
(561) 588-5886
sullivanelectric-pump.com
Heating & Air Conditioning, HVAC
E·D·S Air Conditioning & Plumbing
2200 4th Ave N #1, Lake Worth, FL 33461
(561) 437-4893
edsairconditioning.com
Dan Olson's AC Services Inc
910 4th Ave S, Lake Worth, FL 33460
(561) 202-6000
danolsonac.com
Home Remodeling
Palm Beach Premier Remodeling, Inc.
515 S H St, Lake Worth, FL 33460
(561) 264-5627
pbphomerepair.com
WATT Home Remodeling and Handyman Service.
414 S K St Unit D, Lake Worth, FL 33460
(561) 768-8745
watt-construction-enterprise.business.site
Pest Control
Above & Beyond Pest Control
3677 23rd Ave S Suite A106, Lake Worth, FL 33461
(561) 582-6622
abpestcontrol.com
HomeTeam Pest Defense
1100 Barnett Dr Suite 28, Lake Worth, FL 33461
(561) 547-1700
pestdefense.com
Quality Garage Door Service -
West Palm Beach #1 Garage Door Company