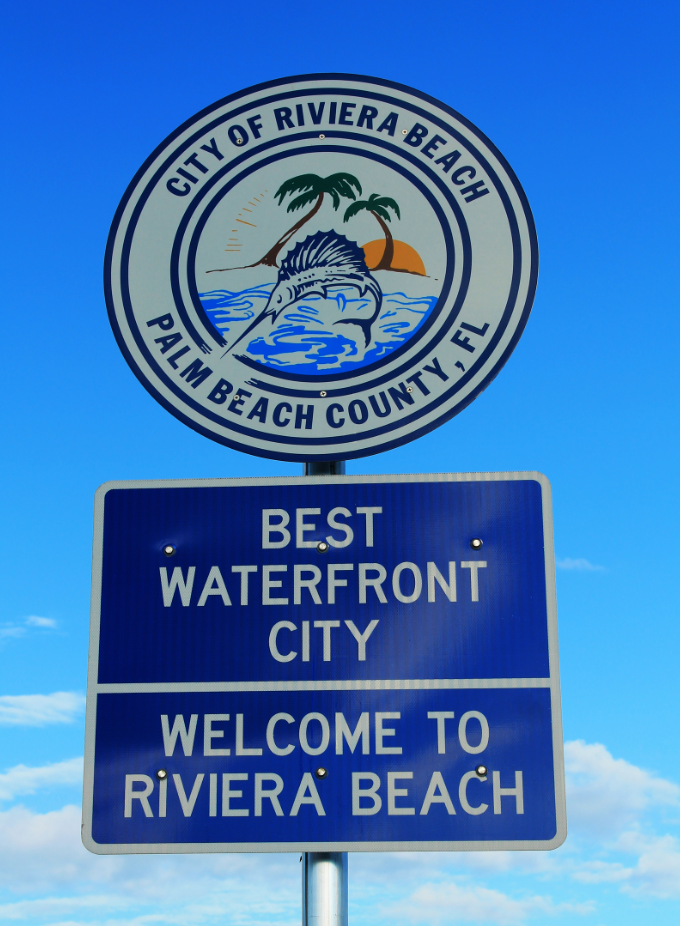 Riviera Beach, Florida
Quality Garage Door Services provides 5 star service for Riviera Beach! Riviera Beach is a city located in Palm Beach County, Florida. It is situated along the Atlantic coast, adjacent to the cities of West Palm Beach and Singer Island. The city is known for its marina, beaches, and parks. The city has undergone a revitalization effort in recent years and is working to attract new businesses and development, improve infrastructure, and enhance the quality of life for residents.
The city has a diverse community with a mix of working-class and middle-class neighborhoods, some of which have been challenged with poverty and crime. The city has been working on addressing these issues through community policing and crime prevention programs.
Riviera Beach offers a number of amenities, including the Riviera Beach Marina, which is home to over 700 boats and offers a variety of marine-related businesses and services, and the Blue Heron Bridge, which is a popular spot for snorkeling and diving. The city also has a number of parks and recreational facilities, including the Phil Foster Park and the Riviera Beach Oceanfront Park.
The cost of living in Riviera Beach is generally considered to be lower than the national average, but it can vary depending on the location within the city. The housing market in Riviera Beach is diverse and offers a range of options, from single-family homes to townhouses and condos.
Overall, Riviera Beach has its own unique character with a beautiful marina, beaches and parks. Call Quality if you ever need garage door repair and service in Riviera Beach.
AFFORDABLE GARAGE DOOR REPAIR NEAR ME
Family owned, Local Small business
Honest, Friendly, Helpful, Fair Priced
Prompt, Professional, Clean
24/7 Emergency Garage Door Service Available
We offer nights and Saturday service at no extra charge
Highly trained garage door technicians with courteous service
Call us today and see why we are your neighbors' choice in Riviera Beach
Local Services in Riviera Beach, Florida
Electrician
Brown Electrical Solutions, LLC
1401 W 13th St #104, Riviera Beach, FL 33404
(561) 557-2011
brownelectricalsolutions.com
American Lighting & Electrical Services
7535 Garden Rd # 34, Riviera Beach, FL 33404
(561) 689-4854
americanlightingusa.com
Heating & Air Conditioning, HVAC
North County Cooling Inc.
4188 Westroads Dr, Riviera Beach, FL 33407
(561) 288-2063
northcountycooling.com
John C Cassidy Air Conditioning
846 W 13th Ct, Riviera Beach, FL 33404
(561) 863-6750
cassidyac.com
Home Remodeling
Agrusa and Sons Contracting, Inc
7656 Byron Dr b3, Riviera Beach, FL 33404
(561) 367-5950
agrusaandsons.com
South FL Kitchen & Bath LLC
1960 W 9th St Suite #9, Riviera Beach, FL 33404
(561) 401-0064
fb.com/southflkitchens
Painting
Arnold Painting
3866 Prospect Ave Suite 18, Riviera Beach, FL 33404
(561) 662-6723
arnoldpainting.com
Affordable Painting Jobs LLC
(561) 475-8706
affordablepaintingjobs.net
Quality Garage Door Service -
West Palm Beach #1 Garage Door Company